Delight Family & Friends with S'mores Treats - All Year Round
Everyone loves S'mores...and what's not to love?
The melted chocolate and toasted marshmallow treat has been a family favorite since the first printed S'mores recipe appeared in 1927. Legend tells us the name "S'mores" came about because everyone who tried one asked for "some more."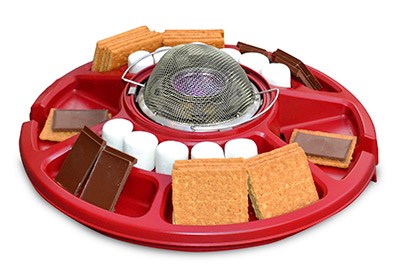 Family Fun & Entertaining

Introducing our new family fun product, the 'S'mores Maker'. This device is built with entertaining in mind and features all the elements to enjoy S'mores anywhere, anytime*.

The S'more's Maker Includes:
» 1 can of Sterno S'mores Heat
» 1 durable and easy to clean serving tray with 2 integrated S'mores Making Stations
» 2 stainless steel Roasting Forks
» Integrated Heat Management System that keeps the specially formulated S'mores Heat safely secured under the roasting screen.
Everything you Need!

'S'mores Anywhere, Anytime!'
The S'mores Maker adds even more fun to picnics, holiday events, weddings, backyard camp outs, sleepovers, and barbecues.
When it comes to safe, year-round, indoor/outdoor, interactive fun, the Sterno S'mores Maker is the ideal addition to every family's toolbox!