Sterno's Rapid Response to COVID-19
Cotton Face Masks
Seeing the overwhelming shortages of Personal Protective Equipment (PPE) following the worldwide outbreak of Covid-19, Sterno Delivery began converting its LaPorte, IN factory over to producing cotton face masks in early April 2020.
To help reduce the risk of transmission of Coronavirus, these washable cotton masks can be worn by patients, clinicians, non-medical essential workers, and by healthy individuals when going to the supermarket or pharmacy.
At present, all available inventory is being sent to hospitals to free up surgical-grade masks for frontline medical staff.
While we don't have an exact date when these masks will be available to the foodservice industry and general public, we will send an email to our newsletter subscribers when they are.
We appreciate your support (and patience).
CLICK TO SUBSCRIBE TO NEWSLETTER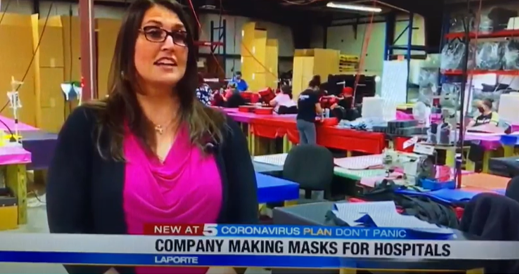 Sterno Hand Sanitizer
In response to the overwhelming need for Hand Sanitizer, Sterno Products overhauled a manufacturing line in one of their US-based manufacturing plants to produce Hand Sanitizer.
Sterno Hand Sanitizer contains 66% alcohol to help reduce bacteria on hands. Specifically packaged in bulk-size, users can refill existing containers to reduce plastic waste or add a reusable pump dispenser.
Due to a limited initial supply, Sterno is currently servicing limited foodservice and healthcare customers. When availability increases, we will expand distribution to additional foodservice, school, and other customers.
To be included on when Sterno Hand Sanitizer will be available more broadly, create an account and subscribe to our newsletter.