How To: Launch a Successful Drop-Off Catering Program
Express Catering. What is it?
Express Catering is a service extension of an established restaurant (or caterer) that is designed to work in concert with day-to-day operations and provide an additional stream of revenue. Express Catering provides customers the opportunity to host an event (business lunch, family gathering, holiday party, etc.) and enjoy the great food and experience of their favorite restaurant at their home, place of business or in any setting of their choice. 

Have a question, confused on where to start?  We'd love to talk!
Email [email protected] and our Sterno Culinary Team is here to help.

Download the Express Catering Startup Guide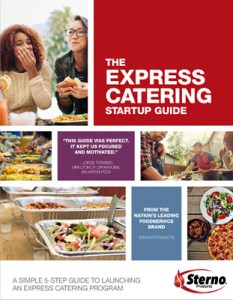 Express Catering How-To Videos
Ever wonder how to set up a wire rack chafer for hot service? How about for cold? In our Express Catering Video series you'll learn the steps to these and other essential Express Catering skills in just minutes!
Express Catering Calculators
Get your costing, pricing, and portions under contol with our waste-busting calculators.
Finding the Right Price Calculator
Half/Full Pan Portion Guide
Per Guest Serving Calculator
Disposable Servingware Calculator
Express Catering Podcasts
Join us as we chat with Jorge Toranzo, Director of Operations for Salvation Pizza about his journey through the 5-steps to launch featured in our  Express Catering Startup Guide 
Salvation Pizza
We are thrilled to have had the opportunity to partner with Salvation Pizza, an Austin restaurant chain, to help develop their catering program. Follow their journey through the 5 steps and learn from their successes and struggles. 
Express Catering Products and Equipment
Here are some of our product recommendations to ensure optimal food temperature and an attractive presentation.

See for yourself

Email [email protected] to get your Express Catering program started today.